Sometimes, the best vacations are the ones that happen unexpectedly. That's exactly what happened to me when I decided to surprise my forever friend in Tallinn, Estonia. It was long overdue because something kept coming up why I couldn't make the trip. She even gave up because she thought I couldn't get a visa. Which I eventually did but kept it as a surprise.
My friend Nk and I met in high school, and we've been close ever since. However, we live in different parts of the world, and we don't get to see each other often. And this was the absolute best time to make that trip.
Tallinn is the capital city of Estonia, and it's a beautiful place to visit. It's known for its medieval old town, cobblestone streets, and stunning architecture. It's also a popular destination for foodies, as Estonian cuisine is a mix of Scandinavian and Eastern European flavors.
When I arrived in Tallinn, her friend came to pick me from the airport and both of us proceeded to Nk's house. It was about past 12am when we got there. When she opened her door, she saw two people with luggages. Ofcourse she didn't recognize me at first. She kept trying to recognize the other person. Bitvh!!! It's me Aniekan. The school in her face was priceless because how??? We talk literally almost everyday and she had no clue. To make it more interesting, I told her I had my bus ticket for the Latvia trip she kept ranting about on our calls. Lol 😂. She was surprised and thrilled, she started calling literally every contact on her phone to attack them who was aware and who wasn't.  We immediately made plans to explore the city.
We started by visiting the old town, which is a UNESCO World Heritage site. The old town is full of charm and history, and we spent hours wandering its narrow streets, taking in the sights and sounds of this magical place. We also visited the Alexander Nevsky Cathedral, which is a stunning example of Orthodox architecture.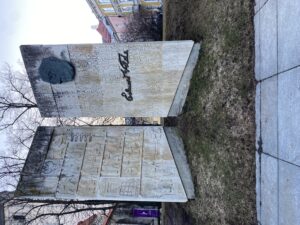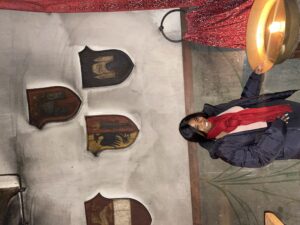 After exploring the old town, we headed to "Olden Hansa", a medieval-themed restaurant located in Tallinn's old town. It's designed to resemble a traditional medieval tavern and offers guests an immersive experience, complete with costumes, candlelight, and traditional food and drink. The restaurant is known for its hearty portions of meat, fish, and game, as well as its selection of mead and beer. It's a popular spot for tourists looking to experience a taste of Estonia's history and culture. We went for different kind of shopping all through my stay in Estonia.
Next, we headed south to Latvia, where we spent three days exploring the capital city, Riga. Riga is a vibrant city that is full of life and energy. The city's old town is a UNESCO World Heritage site and is home to several historic landmarks and attractions. We visited the Riga Cathedral, the St. Peter's Church, the Latvian National Museum of Art, and the Freedom Monument, among other places. We also explored some of the city's trendy neighborhoods, where we tried some of the local food and drinks. Our hotel was AMAZING!!!
Finally, towards the end of my stay in Estonia, we took a day trip to Helsinki, Finland, by sea. The journey was smooth and comfortable, and I got to see some stunning views of the Baltic Sea. Helsinki is a beautiful city that is known for its modern architecture and design. We just went round the city center, took pictures, explored the malls and found our way back to the ship which by the way was incredibly huge. It was a city on its own. My foodie life in Tallinn was enhanced by my friend's amazing cooking skills of jollof rice, peppered stew, my smoothie 🥲, fresh pancakes with condensed milk and finally my seafood platter that almost gave me PTSD.
I forgot to mention that less than 8hours after I got ti my friend's place, I spoilt her fridge 😭. We had to buy a new one. Infact the adventure was just too much. I'll leave it here.
My surprise trip to Tallinn was an incredible experience. It was great to see my friend, and it was also an opportunity to explore a new city and learn about a new culture. If you're looking for a spontaneous adventure, I highly recommend surprising a friend in a new city. You never know what kind of memories you'll create together.